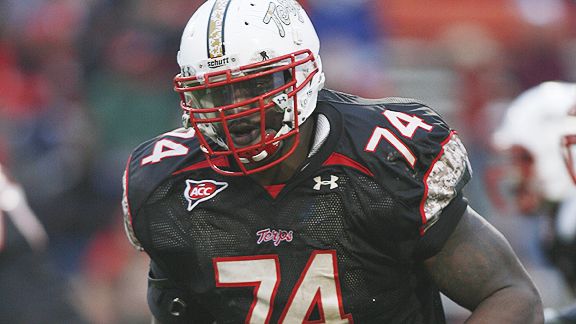 By

Kip Earlywine



Height: 6'7"
Weight: 310 lbs.
Unofficial 40: 4.94
Positives:
Prototypical size (and could add more)

Probably the most athletic tackle in the draft
Sub-5 40, fast, agile

Natural, comfortable, polished, instinctive
Does a wonderful job squaring and staying square with pass rushers
Above average run blocker
Near elite pass blocker
Monster Potential
Could excel in zone or man

No off the field issues that I could find

Negatives:
Injuries, injuries, injuries

Deceptive footwork? Is a little slow vs. inside moves

Sound bites:
"Consider Bruce Campbell the Jason Smith of the 2010 NFL Draft class. His stock will be soaring through the roof once we get to the Combine, however, he is more of a natural pass protector than Smith."
-Matt McGuire (Walter Football)
"Campbell is just as -- if not more -- adept at guarding the blindside as [Anthony Davis and Trent Williams] and there is every reason to think he could develop into a dominant NFL run blocker."
-KC Joyner
,
(draft lab series)
My thoughts:
Campbell is my favorite player in the entire draft that I don't want the Seahawks to touch with a 10-foot pole. He's had so many injuries its just ridiculous, in 3 college seasons he only totaled 17 combined starts and 21 total appearances. He did stay healthy in 2008, starting all 13 games, but suffered from turf toe and even an MCL in 2009 and pretty much didn't do anything last year. I've played with two turf toes and two sprained wrists all at once, injuries like those are not to be taken lightly and have a huge impact especially in the running game. Thankfully, they are largely preventable if a player always tapes up before every practice. I think after experiencing turf toe hell, Campbell will probably take more measures to prevent his next one, but the MCL is a bit more concerning. Knee injuries are one of the biggest career destroyers for linemen on both sides of the ball. Once you can't trust your knee anymore, you lose the power to drive block and you are forced to play careful instead of all-out. Campbell may recover from his MCL just fine, but the potential downside makes selecting him in the top 10 a
huge
risk.
Now that that's out of the way, its really too bad that Campbell has had those injuries, because I loved watching footage of him. He's the best tackle I've previewed so far at squaring his body with the defensive end and keeping the rusher from rushing around or inside him. He's strong enough that bull-rushing him is a waste of time, and he simply won't be beaten outside. His footwork doesn't look that good to me, which is weird considering he's such a freak athlete and is extremely good at staying centered on pass rushers which is much harder than it looks. Sometimes a rusher will make a nice inside move and Campbell almost looks like he's wearing concrete boots. Many experts rave about Campbell's footwork though and I'll definitely say this- I won't argue with the results. If he's that good at staying on top of defenders in pass pro and keeping up on edge rushes, then obviously he's doing something very right.
Campbell is a solidly above average run blocker as well, and usually you don't find tackles that are so good at both pass pro and run blocking.
Campbell's speed and athleticism could make his stock rocket at the combine. He could very well be a top 10 pick. If he had been healthy at Maryland, he'd probably be a lock in the top 5.
For me, he's just too risky. Especially since Gibbs has a penchant for finding good starters much later. But I do like him a lot, and if he stays healthy, I think he has a great chance of being a future pro-bowler.