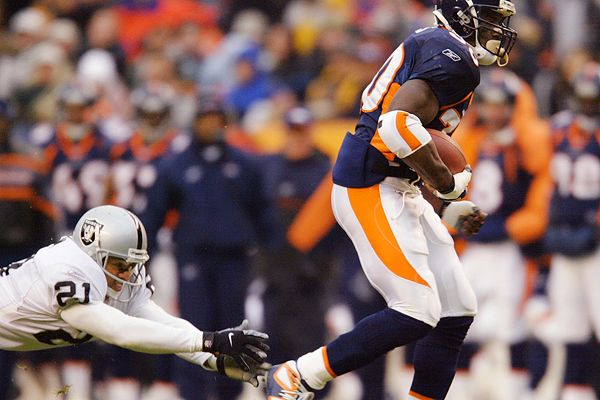 By

Kip Earlywine
You may have heard that the zone blocking scheme can turn any running back into a star. That's a very common misconception that is based on the zone scheme's ability to turn late round running backs into 1000 yard rushers, as Denver did with Terrell Davis (6th rounder), Olandis Gary (4th round), and Mike Anderson (6th round). The truth is, it takes a very specific type of running back to get the most out of the system, and because the system emphasizes vision, decisiveness, burst and agility (cut making ability) instead of traditional attributes like speed, size, and power, it allows teams to produce great runners that would be overlooked by teams that run man scheme- teams that look for Adrian Peterson types.
Since overhauling the running game figures to be a big priority this offseason, I thought I'd take a look at the half-backs we currently have and see how well they fit the system:




Julius Jones:

Jones was touted as being a zone scheme appropriate running back when he joined the Seahawks two years ago.



Positives:



-Very decisive
-Above average (but not elite) speed
-Has a nifty "hurricane" move that works well when trying to break tackles in the 2nd and 3rd level.
-Team player
-Great blocker
-Big play threat on screen passes
-Decently durable/plays hurt
-Rarely fumbles (0 fumbles in 2009)

Negatives:

-Is below average at penetrating the 1st level, which is a big deal in zone scheme.
-Vision, burst, and agility are all more or less just average.
-Decently expensive (roughly $4 million per season)
-Only a 3.7 YPC and only 44 combined DYAR in 220 total touches.
-Doesn't have a "nose" for the endzone, just 4 TDs in 335 carries in Seattle, which is in line with his career numbers.

Jones is a decent fit for the system but not ideal, and as a result, the overall package (including blocking) is a player that isn't killing us, but he's not helping much, either. According to Football outsiders, he's worth a mere .2 yards per attempt over a practice squad type player. Jones is still in his prime, and at 28 years of age (he was born 2 days after I was, how about that), he could easily continue his current level of performance for the remaining life of his contract (2 years). However, with a potential uncapped year coming, it might make sense for the Seahawks to release him and take his contract off the 2011 books, and just replace him with a rookie who costs about a fifth as much money.

Justin Forsett: Forsett was a 7th round pick who was released by the team in 2008 before we lucked out and he was reclaimed.



Positives:



-Great vision, terrific (Alexander level) running instincts
-Outstanding burst especially given his lack of speed.
-Decisive
-Defenders at the line can sometimes lose track of him due to his small size
-High effort, plays bigger than his size
-Makes good cuts
-Excels at breaching the 1st level
-Surprisingly dangerous outlet receiver
-Productive: 5.4 YPC and 155 DYAR in 155 total touches.
-Consistent
-Low cost



Negatives:



-Four fumbles in only 114 carries. Not completely horrible, but below average.
-Despite giving top effort, his size limits his pass blocking to below average and inconsistent.
-Fairly limited upside. Forsett isn't a workhorse type and probably can't play any better than he did in 2009 (which was obviously pretty good).
-Very low top speed, a "big play" for Forsett is 20-40 yards typically.
-Despite very good production, Forsett only managed 5 TDs in 155 total touches. That's not bad, but not good either.
-Very small size, which means he's probably a higher risk for injury
-If he does get injured, he has no speed to spare, so like how Hasselbeck's barely adequate arm became a huge liability when he lost arm strength, Forsett could become a liability if he has to play hurt (unlike a guy like Spiller, who can still dominate while hurt).

Overall, Forsett was a perfect fit for zone scheme, and in 2009 he showed us that his performance against Chicago in the '08 pre-season was not a fluke. It might be surprising that a small back with so little top speed could be so productive. The secret to his success is because (according to a study by footballoutsiders), zone scheme is better suited at producing medium sized rushes between 4 and 9 yards, and is also better for avoiding negative rushing plays. Forsett's ability to break through the first level and get a reliable amount of yards with such frequency is how he totaled such good numbers.



Louis Rankin:

Rankin was released by the Oakland Raiders last September. The Seahawks added Rankin to their practice squad and promoted him to the active roster about a week before they released Edgerrin James.



Positives:



-Decent size (6'1", 205)
-Very good top speed, supposedly in the 4.4-4.5 range
-Low cost
-UW alum (or is that a bad thing?)

Negatives:

-Only 8 carries to evaluate him by, which included a fumble.
-Below average as a kick returner.

It would be impossible to sum up Rankin by what he's done so far as a Seahawk. Thankfully, I'm a diehard UW fan who hasn't missed a game in years. Rankin's college "skillset:" good moves, deceptive speed, above average size, all paint him as being best suited in a man system. Rankin does not have good vision, and in just the few reps I've seen him in zone scheme, he looks overly deliberate in choosing a hole and doesn't even seem to look for the cutback lane. I think Rankin has enough talent to be a good backup somewhere else in a man scheme where all he has to do is to run to an assigned spot every play and not worry as much about cut-backs. He's not a great fit for zone and his special teams abilities aren't helping, so I don't think the Seahawks should retain him.



The Verdict:



For the Seahawks to improve the running game, they need to add at least 1 RB in the draft this year, maybe 2. Thankfully, Alex Gibbs teams have averaged drafting (iirc) a whopping 1.3 RB's per draft. Seattle should target backs who are intelligent (can see where the holes are developing and make a quick and smart decision), agile, and have great acceleration to help power them through the first level.

One (potential) free agent possibility is Reggie Bush. Bush posted even better DYAR/carry than Forsett in 2009, and brings big play potential. Bush's status as a 3rd string back and his remaining $20+ million owed to him the next two years could make him a possible target for release in this unique financial offseason. Bush has great speed, good running instincts, good moves, good burst, unreal receiving skills for a RB, and has played (and excelled) in a zone system in both New Orleans and USC.

In the draft, I still have a lot of homework to do, but my early favorite is Joe McKnight. I'll give a McKnight a preview piece in about a week or so, but until then, here's something to look at (nsfw):



(full screen version here, if you prefer)

There are times, such as at 1:10 in that video, where McKnight's acceleration just explodes off the screen and I have to pick my jaw up off the floor. Dancing behind the line is the bane of a zone running back, but McKnight has kind of a nifty way of "cheating" by dancing in the backfield without losing speed. He'll turn towards a cutback lane for a split second, and then transition via a weaving motion towards the his initial option and turn on the burst. The flaw of highlight videos is we don't get to see when this tactic fails, but I have to say, it looks so devastating when it works that I can't imagine it backfires often. Another thing that is appealing to me is that McKnight's stock seems much lower than it should be, he's currently projected by Walter Football as a 2nd to 4th rounder. He also played for Carroll and Bates last year, in a zone scheme running game- which makes him easy to project and a "safe" pick. Even if drafted in the 2nd round, he'd be playing on a very affordable contract.

Anyway, there are certainly many RB options, Spiller in the 1st, to Best in the 2nd, to McKnight in the 3rd (hopefully 4th), and many great options beyond. And of course its those late round picks that could be potential home runs. Every offseason you can find great zone runners that are overlooked, just as Forsett was in 2008. If Gibbs and company can identify that late round difference maker, like perhaps McKnight's teammate Stefan Johnson, they could end up getting a 1st or 2nd round value out of a 6th or 7th round pick. And that's how team's "win" the draft.