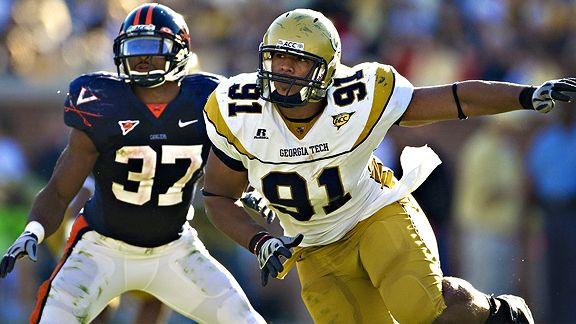 By

Kip Earlywine



How about a 2-fer today?
Height: 6'4"
Weight: 270
Unofficial 40: 4.74
Positives:
-Good size
-Great athleticism, acceleration, foot-speed and agility
-Explosive...
very
explosive by LDE standards
-High Motor, relentless
-Good leverage
-Powerful, can sometimes dominate blockers
-Full pass rush repertoire: edge rush, spin move, slips by with quickness
-Handles double teams well
-Can play both DE spots in a 4-3
-Terrific 2009 stats (18.5 TFL, 12 sacks)
-Edge rush for a LDE is downright scary, which forces a lot of holding penalties from RTs
-Very good awareness, great vs. run
-Good tackler
-No Character concerns, plays hard and seems to be a leader
-No notable injuries
-Well rounded; very few weaknesses
Negatives:
-Mediocre hand use, sometimes can get locked up or struggle to disengage
-Streaky. Gets sacks in bunches
-Not as dominant at RDE
-Pretty much a pure 4-3 player
-Might have issues in coverage
-At his best with a hand on the ground
Sound Bites:



"[Morgan] represents great value because he can rush the passer, is productive against the run and can even drop back -- a versatile talent.
"I bring this up because after one game of the tape review of Georgia Tech defensive end Derrick Morgan [against Clemson]... I had thoughts of grading him above the phenom Ndamukong Suh."
"Morgan can anchor at the point of attack, make plays in pursuit, get to the quarterback coming off the edge and drop into coverage on zone blitzes. In other words, he can do it all as far as defensive end prospects are concerned. He is a BIG TIME pass rusher."
My Thoughts:
I came into this POTD a little biased in Morgan's favor. Despite that, my expectations were exceeded. He's built like a prototypical LDE, but his quickness and moves are like that of a lightweight RDE. Morgan is big, strong AND explosive, which you just don't see everyday. Morgan's quickness is his biggest asset. This probably explains why he's more successful on the left side since RTs are often less equipped to handle a potent edge rush.
Morgan did look pretty ordinary at RDE though. His hand use is just ok and good left tackles can sometimes lock him up. There seems to be some controversy about Morgan's coverage ability. Some like it (Kiper, McShay), some don't (Walterfootball). Morgan is also pretty streaky and likes to pad his stats with big games, but so did Kerney and Tapp in '07.
Morgan played both RDE and LDE in 2009, and has the talent to play both positions in the NFL. However, I think it would be wisest to use him mostly at LDE. Finding very good edge rushers with the size and strength to stop the run is not easy to do. Morgan will make for a special LDE, whereas I think he'd just be ordinary at RDE. Watching those highlights, Morgan reminded me a LOT of a taller, bigger Robert Mathis. That works out well, because I'd rather upgrade over Jackson than Tapp.
Darryl Tapp is an under-appreciated player who impressed Carroll, so I think he'll be back. Tapp is kind of like a poor man's Dwight Freeney. If the Seahawks add a potent DT to pair with Mebane, QB's won't be able to avoid Tapp so much. For as few sacks as Tapp had last year (2.5), he nearly led the league in QB hits (16?). I wouldn't mind at all if the Seahawks complimented a poor man's Freeney with a rich man's Mathis. That duo has been one of the most dominant in the league now for many years in the same style of defense Seattle currently runs.
I think Morgan makes a lot of sense for the Seahawks, and I now feel comfortable taking him at #6. Interestingly enough, when I googled
Derrick Morgan Mel Kiper
looking for an opinion, the Seahawks were mentioned 5 times on the first page (including this blog). Even if you take out the entries that were due to Kiper giving Seattle Morgan in his 1st mock, there were still about 3 Seahawks sites left. No other NFL team made the 1st page. Morgan is already strongly linked to Seattle and I don't expect that to change any time soon.
I don't know if I'd call Morgan "likely" to be a Seahawk, but I do think he makes a lot of sense. If neither McCoy or Suh falls to #6, and the Seahawks opt to pass on a QB with the first pick, Morgan would probably be my first preference of the remaining options. Matt McGuire compared Morgan to a young Patrick Kerney, and we saw what Kerney did in '07 when he moved to LDE. If the Seahawks draft Morgan and use him correctly, he could become a cornerstone player for Seattle's next playoff bound team.