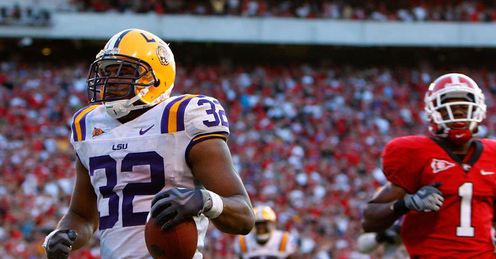 By

Kip Earlywine
Height: 5'11"
Weight: 238
40 time: 4.67
Positives:
Moves well for his weight
Decent cut making ability
Very good yards after contact
Reaches 2nd gear quickly
Top speed is surprisingly decent, 40 time be damned
Fearless inside runner
TD machine in 2008

Negatives:
Benefited from some stellar blocking most of his career
1st gear/initial quickness is average at best
Not a receiving threat
Pretty stiff runner who prefers to run through instead of around defenders
A couple injuries last year (collarbone/shoulder)
Probably a short yardage only RB in the pros

My early impressions:
Watching Charles Scott reminds me a little of watching a mini Jerome Bettis. Bettis was also 5'11" but was a freakish 255 lbs, and ran a 4.48 forty time. Scott is not as heavy as Bettis, but at 238, he's extremely heavy for a RB under 6 feet tall. Bettis was huge, but he also could burn you with surprising speed. Scott is probably a step slower than Bettis, but his speed is also surprisingly good and looks much better on youtube than his official 4.67. Besides physical attributes, Scott reminds me of Bettis because he rarely attempts to evade defenders, instead opting to run over them. That leads to some very nice yards after contact, but at the cost of avoiding it.
Could Scott be an option for the Seahawks? Perhaps. The Seahawks need to add a goal line and short yardage back, preferably one who is durable and at least gives the team the option of using him more than 5-10 carries per game should Forsett or another RB suffer injury. Scott qualifies. However, I don't see a back who has the tools to be an incredible every down back in a Gibbs system, because his vision, burst, and explosiveness seem average at best and he's not known for his receiving ability. Considering his straight ahead power style, I think he'd be slightly better suited for a man offensive line if teams wanted to use him as a featured back. I like Scott, but I probably wouldn't take him any earlier than the 5th or 6th round, especially with a lot of competing short yardage options out there (like Legarrette Blount, among others).