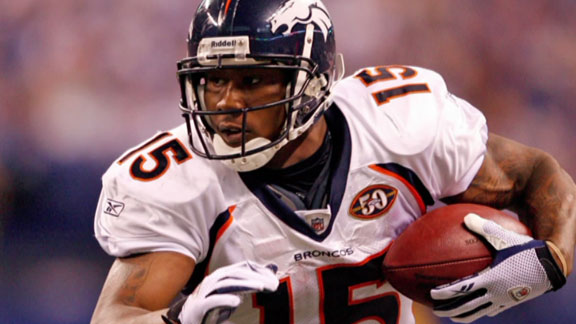 By

Kip Earlywine
Today the Seahawks met with Brandon Marshall. As shown below, it is now reported that they are not seriously considering the offer sheet (which would cost us the #6 overall pick), but rather, they are taking the first step in a long trade process with the Denver Broncos. Since the Seahawks have the option of signing Marshall at any time (potentially with a poison pill) and acquire him for the cost of the #6 pick, this establishes Marshall's maximum value. Marshall's off the field issues will scare many teams away, and it is yet unclear how many teams view Marshall as a 1st round value, much less such a high pick. This is why I anticipate the Marshall trade taking some time to develop- because his value to NFL teams is not yet established. He's going to have to make more visits to take the temperature on his worth.
It might seem strange that a player considered by many to be one of the best wide receivers in the NFL wouldn't have 1st round value to many teams. Well, there's a good reason for it. If you haven't seen it yet, please watch this. If you can sit through it all, its pretty eye-opening.
Marshall's issues arose suddenly and out of nowhere, with his first incident occurring in early 2006. As it happens- that is exactly around the time he was preparing for the NFL draft, which must have been a very stressful time. Some fans may not realize this, but when you play in the NFL- you are
owned
by your team in a very literal sense. At times of the year you have to follow strict curfews, you have to constantly manage your diet and workout regiment, you have to show up for constant team meetings and practices. And since many NFL coaches are notoriously tough on their players, this can create an incredibly stressful environment. Ever had a nasty boss? Well imagine if that boss had control over your life when you were off work. This makes the NFL a highly stressful profession for many players, and sadly, the resulting domestic violence is not uncommon in the NFL. (Marshall also incurred additional stress from a contract dispute and was angry at Broncos medical staff for misdiagnosing a hip injury he had surgery on.)
However, this does not excuse domestic violence, and in most cases, the attacker will quickly realize what he's done, apologize to everyone, get help, and clean up his life, rarely if ever repeating his mistake. Its not every day you see a "serial" domestic abuser in the NFL, and if you watched that entire video, its clear that Marshall fits that definition.
Rob kind of beat me to this in the comments below, but there are two types of authority figures. Disciplinarians and mentors (father figures- sometimes called "a player's coach," although some mentor types are also disciplinarians, like Mike Holmgren). Some people need discipline in their lives and benefit from having a tough enforcer around. Others are too rebellious, and are much more in tune with the more subtle mentor type.
I won't speculate about how Marshall was raised, but his behavior to me indicates that he is in need of a mentor in his life, someone who can give Marshall corrective advice while still being on "his side." McDaniels is unambiguously a disciplinarian alpha dog type coach, which seems to have created a ton of friction with Marshall. I can't say what type of coach Shanahan was, but he did seem to run a very tight ship in his time in Denver.
Pete Carroll is the ultimate coach at coexistence- a guy who always stays positive on the football field and who reached out to young men in the gang infested slums of Los Angeles. If anyone can help Marshall improve as a human being and conquer his impulsiveness and anger management problems, I think Carroll could.
I've had two people in my life that suffered from severe anger control problems. Through a gradual process of what might best be called "positive peer pressure," I was able to help both of them overcome their problems. They are both completely different people today than they once were. I can testify first hand that anger problems can be fixed if handled the right way.
I think in a less toxic environment, with friends (such as Bates and perhaps Housh) around him instead of antagonists, and with the right leadership, Marshall could be cured of his ills, or at least see a difference in his life. Having the contract stress out of the way could make a big difference too. Whether or not the Seahawks should actually obtain Marshall, there is no question in my mind that Seattle is the best place to go from Marshall's point of view, everything else being equal. And sometimes just a change of scenery can be huge. Randy Moss had a ton of issues including legal ones, but after going to New England, he finally matured and kept himself out of trouble.
Whether or not you think Marshall will mature and heal here in Seattle is up to you to decide. No matter how soft the landing, there is always the chance that he just never gets better, and given his frequent run-ins with the law, he has to be considered a significant risk unless he changes his ways. This has to come into consideration when judging a players worth, just like say, injury risk would. Many teams will look at Marshall and not expect him to get better. It should be very interesting to see how his value is gauged in the next few days/weeks.
So what about Marshall on the field? Marshall has totaled an impressive 3710 yards the last 3 seasons, two of those with our current offensive coordinator. He totaled 102, 104, and 101 catches each season, even holding steady when he lost Jay Cutler. Nicknamed "the beast," Marshall is generally considered the best "physical" type WR in the NFL. This post is getting long, so rather than giving a mini-scouting report, here are some highlights:
As far as what he is worth to the Seahawks, I'd like the team to play their cards right and pay the minimum price they can by waiting for him to establish what should be a significantly lower value to other NFL teams. If things go well, its possible that they may be able to keep two first rounders. If I had to give a value from Seattle's point of view, I'd say he's worth the #14 pick straight up, if they had to pay that much. Here is why I think that:
First, this isn't a great WR class, and the best option, Bryant, is only a borderline #1 type prospect (think Anquan Boldin), and Bryant is kind of a fuzzy fit for Bates anyway (not a true "big" WR, best attribute is over the shoulder deep throws- which Hasselbeck and potentially Clausen would struggle to accommodate).
Secondly, Marshall is only 25, meaning he'd be good for likely the entire contract (long term), and he's proven. If he stays out of legal trouble, he'll be more likely to come through than a draft pick.
Third, he is a perfect fit for Bates' scheme, and for as long as we have Hasselbeck, he's a good match there as well. Hasselbeck tends to click with big targets.
I'd almost be willing to give up the #6, but I hesitate to do that simply because of Marshall's off the field risk and the potential opportunity cost of missing out on a franchise QB like Jimmy Clausen or perhaps Sam Bradford. To me, the #14 is just fine. But it would be amazing if it could happen for less. And it might, if Marshall's value is established to be 2nd round or late 1st round.
Edit:
Sando lays out a good argument
that it could be indeed for less than a 1st.