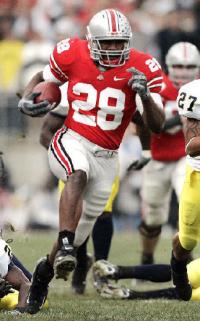 Aaron Wilson from Pro Football Talk is
today reporting
that Ohio State running back Chris Wells will visit with the Seattle
Seahawks
in the upcoming weeks.
"Ohio State star running back Chris 'Beanie' Wells is scheduled to visit multiple NFL teams over the next few weeks, according to a league source. Among the visits Wells currently has planned: the Denver Broncos, Cincinnati Bengals, Arizona Cardinals, San Diego Chargers and the Seattle

Seahawks

."
-
Aaron Wilson
The strength of the source is unclear but with
reports
this week that Seattle are also meeting with Kansas State quarter back Josh Freeman, the
Seahawks
are clearly making sure no stone is left unturned. Yesterday, Charley
Casserly
predicted
Seattle would draft Beanie Wells with the fourth overall pick.