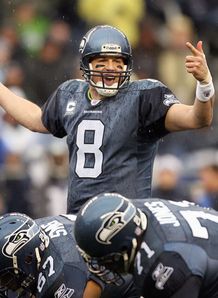 It's been reported today by Frank Hughes at the
Seahawks
Insider that Matt
Hasselbeck
is doubtful for Sunday's game against the Patriots. Apparently, his back injury has flared up again this week following the battering he received from the Cowboys pass rush on Thanksgiving Day.
This is not good news for the people who were hoping our early report from Peter King was small talk on a slow news day. The
Seahawks
are scheduled to spend an estimated $9 million on
Hasselbeck
in 2009, when he will be 34 years old.
If
Hasselbeck
is going to be permanently susceptible to problems brought on by his bad back, considering his age and cost, cutting him might not seem as unrealistic as many thought a few weeks ago.
It's still early days and if the doctors predict Matt can make a full recovery in the off season, the
Seahawks
would be wise to IR
Hasselbeck
immediately and give him the best possible chance to get fit.
But with Seattle drafting so highly this year and a new Head Coach set to take control, Matt's health or lack of it could provide one of the big talking points during the NFL off season.
We'll look a little more at this debate in the second part of our look at how Seattle may approach the first round, which will be published tomorrow.
(click here for part 1)
http://seahawksdraft.blogspot.com/2008/12/how-will-seattle-approach-first-round.html