With week 16 in the books it's time for an updated mock draft. Changes to the draft order have been rectified and there are also some significant changes in the selections. To view the mock check the right hand side bar.
Perhaps the most notable change is at the top with Detroit selecting Andre Smith. This pick is open to change because we don't know what the Lions will do to their front office, coaching staff or roster before we get to New York in April. If they sign Matt
Cassel
as a free agent for example, it will almost certainly rule out a QB going first overall. At this juncture I believe they will try to emulate the Dolphins this year by taking the top rated tackle first overall and building in the trenches. There are some question marks about Smith's ability against elite speed but he has the tools to be a number one overall selection.
This in turn changes the top five significantly.
Click here
for more analysis.


I believe St. Louis will consider taking a quarter back or Michael

Crabtree

but in the end draft Michael

Oher

. There are concerns about his intelligence but physically he could be the most NFL ready OT in this class. The Rams want a new left tackle after missing out on Jake Long last year.

Kansas City are still slated to pick Sam Bradford. With a new general manager set to come and potentially a new head coach I believe there is a chance the new regime 'take their own guy'. Even if

Herm

Edwards remains, Bradford suits the spread offense they've been using this year and could sit behind Tyler

Thigpen

to learn his trade.

With the top two tackles off the board and the Bengals not looking for a quarter back, Cincinnati are left with little option but to take the best player available. No sweat because that guy is Michael

Crabtree

. With question marks about Chad

Ocho

Cinco

/ Johnson's future and

TJ

Houshmandzadeh

possibly hitting free agency if he doesn't get tagged, receiver could become more of a need as the weeks pass.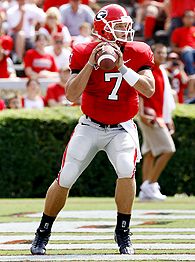 The

Seahawks

are up next and they have two options. For starters, no defensive prospects have left the draft board yet so they'd have their pick of the class. That is an option depending on how the 'Hawks scouts have graded the talent. The alternative and option I have gone for in this weeks mock, is that they take Georgia quarter back Matt Stafford. Questions continue to mount about Matt

Hasselbeck's

future and ultimately a medical report will determine his fate. If the doctors say he cannot be trusted to be healthy, GM Tim

Ruskell

may be ruthless and move the pro-bowler on with a new era set to begin under Jim Mora. The improved performance of Seneca Wallace would then lead to a training camp face off for the starting role with little pressure to start Stafford immediately. This won't be a popular pick for some of the 12

th

man but I firmly believe it is a possibility and that this is how the mock has fallen today.

Do you agree with this mock draft? Would you take Matt Stafford in that situation? Can Andre Smith go first overall? Have your say by clicking the comments link below and leaving your opinion.