Hello Hawks fans, hope you're having a great weekend.
In the first part of our look into how Seattle could approach their opening pick in the 2009 NFL draft, we discussed the assumption amongst many that this is a 'tackle vs
Crabtree
' debate. The
fan base
seems split right down on this one, a clear sign that a lot of people feel the
Seahawks
2-10 season isn't desperate for a total rebuild. By taking an elite talent like Smith,
Oher
or
Crabtree
, the team can bounce back next year with many of it's veterans returning to form and fitness.
However, it could be time to start thinking a little more ruthlessly. One person who certainly could, is Tim
Ruskell
.
When the
Seahawks
have had a hole to fix, GM
Ruskell
has acted aggressively to rectify the problem. In 2007 the secondary was a cause for concern, so in came Jim Mora as coach. He was quickly followed by the free agent signings of Deon Grant and Brian Russell. To complete the make over, Josh Wilson was
drated
with Seattle's first pick in the '07 draft.
A year later the running game was seen as the team's weakness. Mike
Solari
was brought in to coach the offensive line. Shaun Alexander was dramatically cut, completing a drastic fall from grace for the former NFL MVP. To replace him, Julius Jones and
TJ
Duckett
were signed.
This brings us to the 2008 campaign, where the
Seahawks
sit a miserable looking 2-10. With half the team on injured reserve there's a very real threat the franchise could go 2-14 or 3-13.
There's more than one hole to fix this time. On defense there's been very little pressure on the front line, the secondary has struggled and once again the
Seahawks
have given up so many big plays. In the yards per play comparisons, Seattle ranks 30
th
in the league.
On offense the
Seahawks
have an ageing, injured and frankly pretty poor receiving group. The dominant pass game we saw in 2007 is no more, with the team ranking 31st in the league when it comes to passing the ball. The running game hasn't fared much better, but a certain degree of this can be blamed on other teams stacking the box and daring the Hawks to pass.
But perhaps the most telling problem has been the inconsistency at quarter back. Matt
Hasselbeck
, Seneca Wallace and Charlie Frye have all seen playing time and all have suffered injuries at various points in the season.
Hasselbeck
, the franchise QB and most important feature of the offense, has suffered from a back problem that has plagued him since training camp.
The team originally passed it off as a minor concern. That hasn't
been the case.
Hasselbeck
has suffered with his health and every time the blame has firmly been pointed at that bad back. It appears he will miss Sunday's game against the Patriots and could miss the rest of the year.
So here's the thinking. You're the GM of the
Seahawks
and you're speaking to the team's medical staff. They tell you that the back could be a problem next year too. In fact it may always be a problem.
You have your hand picked head coach all set to take over having just endured an awful season riddled with injuries. You're looking for a fresh start and want to put 2008 behind you.
Can you risk going into a new era for the franchise chopping and changing the QB every week?
This would be the ruthless move to end all ruthless moves. But could the
Seahawks
have a new quarter back starting next year?
As we reported this week, Peter King has speculated on SI.com that he keeps hearing the Hawks will be moving
Hasselbeck
on in the off season. What seemed like a shocking and upsetting story at first, could it now have some truth in it?
No doubt if Matt's back is given the all clear, there's absolutely no way he will be cut. He is not just the teams franchise QB, he's a fantastic guy and a team player. He has the experience, he knows how to produce a winning team and he has been to pro-bowls.
But if there's any doubt what so ever that he isn't going to be 100% for next season, I just wonder if the team will be tempted into using their first round pick on a rookie QB. Let's look at what that means.
For starters, two rookies drafted last year are currently doing the business for the Falcons and the Ravens. Of course they are the exception to the rookie rule. You're supposed to groom a QB in the mould of Aaron Rodgers. The point here is, if Seattle are thinking of going the rookie route, they won't be put off by the class of 08's performances.
Secondly, Seattle could be drafting anywhere between second and seventh in the draft. With so many injuries, it's not unrealistic they draft 2
nd
or 3rd. They could have their pick of the draft class. It's not insane to suggest the Detroit Lions, a shoe in to pick first, will select one of the top tackles. Hey - they may even go
WR
again and take
Crabtree
! That would be fun.
If only Matt Stafford declares, then he would suddenly become an option for the
Seahawks
. Factor in that Heisman front runner Sam Bradford could also declare, Colt McCoy's future is still unclear and Tim
Tebow
might head for the NFL if his Gators win the
BCS
Championship.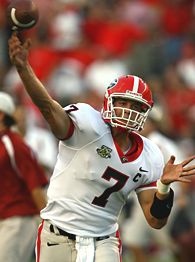 If Seattle sees a franchise QB in that list they might be more tempted to move on and start the Jim Mora era with a new signal caller. It's not unknown for a new head coach to prefer his own quarter back and even if Seattle don't stray too far from the west coast offense, it'll certainly be a different playbook to the
Holmgren
days.
It would give the team a chance to grow together under their new QB.
I want to make it clear that as of today, I will be assuming Matt
Hasselbeck
stays with the team and is the starting QB. Until he is cut or traded, I will organise my mock drafts with the objective that he is starting week 1 in 2009.
But Tim
Ruskell
can be ruthless, as seen with Shaun Alexander last year. Will he cut Matt
Hasselbeck
? We'll find out over the coming weeks and if he did it could send a message as to how Seattle are preparing for the 2009 draft.