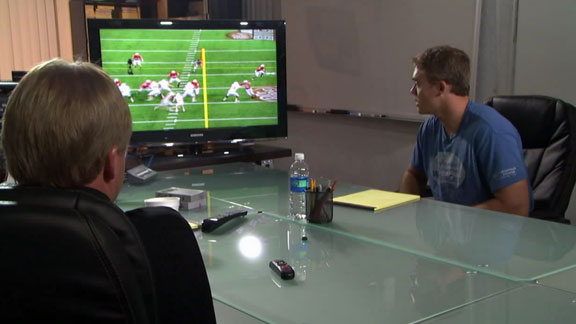 By Rob Staton
This is must-view stuff. Jon Gruden met up with Tim Tebow, Sam Bradford and Colt McCoy and put them to the test as we approach next week's draft. With Tebow,
Gruden takes him
to his kids high school and gives him a thorough work out whilst barking instructions. The former Buccs coach
sits down with Bradford
and basically hammers him for getting injured. Gruden: "You are one of the worst sliding-down quarterbacks I've ever seen." He doesn't let up on Jimmy Clausen either,
demanding greater discipline
from the Notre Dame quarterback. But the one I like the most is
Gruden's assessment of Colt McCoy's Texas accent
. He doesn't like it. He wants it to change. I'm not sure McCoy took it too well, but that in itself was probably part of the test.