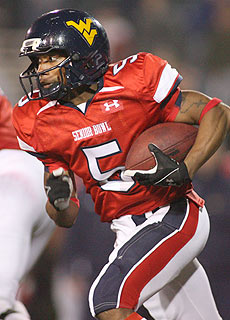 The South comprehensively defeated the North 35-18 in the 60
th
annual Senior Bowl. The scoreline is pretty irrelevant though, it's all about who helped their draft stock and who didn't. Here's some reaction:
NFL Network
has game highlights from the South's victory.
CBS

Sportsline
reports on Pat White's (QB, West Virginia) MVP performance and wonders if he can be a signal caller in the NFL. Originating from Daphne just outside of Mobile, White had a lot of fans at the game.
Tony Pauline
speaks to White and also South coach Jack Del Rio (Jacksonville Jaguars) who was pleased with his team's winning margin.
Shawn

Zobel
breaks down the plays and answers some readers questions.
Rebelsports

.net
report on a good day for Ole Miss, with wide receiver Mike Wallace and defensive tackle Peria Jerry both scoring touchdowns. Jerry had an impressive game overall.
Chris Sullivan
reports on another Ole Miss prospect, Michael
Oher
. Sullivan says that the left tackle started well but was inconsistent and ended the first half badly. He also reports that B.J.
Raji
was shut down - not the kind of performance most were expecting after a hype filled week of work outs.