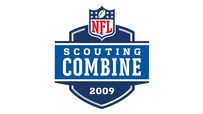 I've just got home from my working road trip. Fortunately the game I was reporting on was absolutely first class and certainly took the edge off what turned out to be a nine hour drive. A lot has happened in Indianapolis, perhaps most notably the news on Michael
Crabtree's
need for surgery. I'll post a
separate
article on that in a moment, in the mean time here's some links as we play 'catchup' over the last 24 hours.
Walter

Cherepinsky
has an extensive data list which tracks how the prospects have performed so far. This includes weigh ins, reps on the bench press and 40 yard dash times.
Andre Smith
decided not to work out and there's some confusion as to why he didn't make this known earlier. There were already concerns after a gaff cost Smith the chance to play in the Sugar Bowl - this doesn't help at all.
Aaron Wilson
adds to the debate, saying Smith went AWOL and a search party was sent for him. Mike
Mayock
has criticised the prospect, whilst his agent has taken the blame. It's a complete mess and the Alabama offensive linemen will have to hope time is a healer. With nearly two months until the draft, his stock took a big hit this weekend.
Danny O'Neil
has published a full transcript of an interview with head coach Jim Mora. According to Mora, the team will interview Michael
Crabtree
(
WR
, Texas Tech) tonight.
Crabtree
himself talks to the press and discusses his decision to turn pro after just two years with the Red Raiders. There wasn't really anything for him to prove in Texas after winning consecutive
Biletnikoff
Awards.
Tom

Kowalski
, a Lions beat reporter, believes Detroit will likely choose between Jason Smith (OT, Baylor) and Aaron Curry (LB, Wake Forest) with the first overall pick. I would have to disagree, it's almost a shoe in that Matt Stafford is taken with the first pick.
Chris 'Beanie' Wells
(RB, Ohio State) speaks to the NFL Network. Wells has a vibrant personality and always comes
across
well in his interviews. If he can eliminate fears about his durability he could be a
surprise
top ten pick.
Also from the NFL Network - a panel including former
Buccs
coach John
Gruden
discuss their favourite
wide receivers
and
running backs
. Regarding the backs,
Knowshon
Moren
(RB, Georgia) weighed in at an impressive 217 lbs. If he can run a quick 40 yard dash time he's another prospect whose stock could dramatically improve.
Jeff Richards
looks at the performances so far of the offensive tackles. He thinks Jason Smith put in the most impressive display.