A lot has been discussed about the prospects expected to be on Seattle's radar with the fourth overall pick, but what about the '
wildcards
'? If we've learnt one thing in the Tim
Ruskell
era it's that he isn't afraid to pull the trigger on a target he's really fond of - even if it goes against popular opinion. He
aggresively
traded up for
Lofa
Tatupu
and John Carlson - both with a great deal of success despite a certain level of
surprise
from the so called experts. With the
Seahawks
picking earlier than in previous years under
Ruskell
, can we expect a few
surprises
this year? Let's have a look at some of the prospects not being widely touted as a top five pick but might catch
Ruskell's
eye.
To read the full article, click here.
Knowshon

Moreno, RB Georgia
Moreno is a true triple threat running back, excelling as a runner, receiver and blocker. He isn't the biggest (5'11", 208lbs) but plays with tenacity and heart to more than make up for physical restraints. Some have said his commitment to finishing runs leaves him susceptible to injuries, but his health record is exemplary to date. Not blessed with elite breakaway speed but has excellent vision and patience, waiting for holes to develop. Shows a good burst to take advantage of space and has unmatchable ability to make a cut back. Lateral quickness is very impressive and this allows him to maximise runs and make gains. Has a knack of knowing where the first down marker is. Great balance, will often take a hit but stay on his feet to gain an extra push. Doesn't tire down the stretch and has the energy to punish teams late in the game.
Why isn't he considered a top pick?
Opinion on Moreno has been mixed for weeks. Some have compared him to
LaDainian
Tomlinson
and shown a real confusion as to why he isn't being touted amongst the elite of this draft class. Others mention his lack of size and the fact teams are unwilling to invest so much money into the running back position with a
preference
towards a two back system.
Why the

Seahawks

would consider him...
He has the production Tim
Ruskell
looks for with two impressive years at Georgia (2736 yards, 30
TD's
). Great character and considered a leader by his teammates. Seattle has shown a willingness to improve the running game in 2009 and a new feature back could drive them forward. The team needs play makers, Moreno would give the offense an identity.
Why the

Seahawks

won't consider him...
Greg Knapp has said the team will adopt more of a zone blocking scheme. The Denver Broncos have shown you can plug backs into the system and have success. The team invested a large amount of money into Julius Jones and
TJ
Duckett
and have the option to
retain
Maurice Morris and Justin
Forsett
. Darren McFadden (drafted 4
th
overall by Oakland last year) pocketed $60 million ($26m guaranteed) from a six year deal. A similar amount would be a huge investment for another running back.
Everette Brown, DE Florida State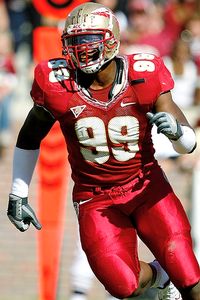 Brown had an impressive 2008 season for the Seminoles recording 13 sacks, 21.5 tackles for a loss and 3 forced fumbles. A super athlete with great burst he has a reputation of beating his man briskly from the line of scrimmage and getting to the quarter back quickly. Clearly the best pass rusher in the 2009 draft class. Has an excellent spin move, closes quickly and is a strong tackler. Stronger than he looks and hits the ball carrier hard leading to turn overs. Difficult to cover and playing alongside another dominant pass rusher could cause all kind of problems. Has the frame to add bulk and get bigger without losing any of his speed or agility. Improvises on plays to try and avoid blocks.
Why isn't he considered a top pick?
He's starting to get more attention. I've had him in the top five of my last two mock drafts and Rob Rang from NFL Draft Scout has him going third overall to the Kansas City Chiefs. It's not a great year for defensive line talent and although Brown is arguably the best of the bunch he is only just starting to get attention. Some have concerns if he can play in a 4-3 defense which would restrict the likelihood of him going in the first four picks.
Why the

Seahawks

would consider him...
The
Seahawks
defense struggled badly in 2008 without the veteran ability of Patrick
Kerney
on the defensive line. With little pass rush and time for opposition quarter backs to pick their passes, Seattle's secondary suffered as a consequence - ranking amongst the league's worst. Brown has the potential to develop but could have some impact as a rookie, offering an exciting partner for
Kerney
in the pass rush. New head coach Jim More has spoken of getting more pressure from the front four and not relying on the linebackers blitzing.
Why the

Seahawks

won't consider him...
At Florida State he was often spread away from the rest of the defensive line in order to give him space to rush. He was also consistently placed in mismatch scenarios which could have
exaggerated
his stats. His 13 sacks looks good on paper but it was often boom or bust - multiple sack games against Clemson, Virginia Tech and Maryland are off set with blanks against Florida, Boston College and Miami. He is a prototype 3-4 DE/LB hybrid and is too much of a risk in a 4-3 defense. The
Seahawks
have already invested picks into their pass rush and it's time for Lawrence Jackson,
Darryl
Tapp
and
Baraka
Atkins to step up to the plate.
Jason Smith, OT Baylor
Smith has risen up draft boards over the last few weeks to join a growing list of highly rated offensive tackles. Started as a tight end for the Bears but was moved to left tackle by coach Guy
Morriss
. Listed anywhere between 280-305 lbs and 6'5" in height, Smith has a slender frame with lots of room to add bulk. Possibly the most athletic tackle in this class, he excels in pass protection playing in Baylor's spread offense. Quickly moves to the second level to attack linebackers. Has developed so quickly to his new position, it makes you wonder how good he could be with the proper guidance in the NFL. Question marks have been raised about his ability to dominate in the running game, but played on a Baylor line that averaged 195.8 rushing yards a game.
Why isn't he considered a top pick?
He's never really managed to break into consideration in the top three with Andre Smith, Eugene Monroe and Michael
Oher
all being predicted as more likely options for St Louis if they want to select an offensive linemen. He's a regular top 10 feature in most mocks and was even touted as a potential pick for Seattle in Rob
Rang's
first mock draft. Lack of experience in a pro offense has led to some question marks and his no-show at the Senior Bowl was a
surprise
.
Why the Seahawks would consider him...
Senior prospect and Tim
Ruskell
has shown a tendency to favour guys who stay at school. The
Seahawks
have the chance to draft an offensive linemen as a long term successor to Walter Jones and Smith has the athleticism to fit into Mike
Solari's
schemes. Big personality who is well liked by his teammates, also very intelligent and graduated prior to his senior year.
Why the

Seahawks

won't consider him...
The
Seahawks
have a lot of money invested into Sean
Locklear
who signed a contract extension in 2008. The deal included incentives for playing left tackle, a position some have suggested suits
Locklear
more than his current right side placing. If
Locklear
is considered a long term 'in house' replacement to Walter Jones, investing heavily in an offensive linemen would mean a lot of money for one position. Tim
Ruskell
spoke recently about his preference to draft offensive linemen later in the draft. The
Seahawks
wouldn't get an instant benefit from the pick with Jones slated to recover from a knee injury and question marks remain about Smith's ability to adapt quickly to a pro offense.